Summer is almost here and there's no better season to get outside and explore—which leads us to our theme this month: Adventure.
We've got resources for whatever adventures you may embark on. Whether it's trying to stay creative anywhere in the world, helping preserve the world for adventures to come through eco-friendly art or taking an adventure of the mind as you shake up your artistic practice. Plus, as the cherry on top, we're launching an all-new line of outdoor products!
Now, let's get to some practical tips, tricks and prompts to help you make the most of May.
Some quick things worth noting:
Occasions to promote:
May 1-8: National Pet Week
May 5: Cinco de Mayo
May 12: Mother's Day
May 26: Memorial Day
College Graduation(s)
The month also boasts National Hoagie, Shrimp, Apple Pie, Chocolate Chip, Mimosa, Pizza Party, Wine and Burger Days, so…do with that what you will!
Products to Promote + Trending Tags
We're constantly monitoring product sales, from trending art prints to your cat's favorite floor pillow. It is our job to know these things, right? Well, we want you to know a few of the key products and trending tags we'll be focusing on this month. You already have a sense of what your fans like, so this list gives you an eagle's eye view of the Society6 marketplace at large. It's intentionally broad so you can focus on products that are a best fit for your artwork or brand.
Products to Promote
Wall Art: Art Prints, Mini Prints, Wallpaper
Home Decor: Serving Trays, Acrylic Boxes, Furniture
Lifestyle: Beach Towels, Yoga Mats, Fanny Packs
Apparel: T-Shirts, V-Necks, Tanks Tops, All Over Graphic Tees
Trending Tags
Beach, Cactus, Space, Ocean, Cat, Moon, Flowers, Music, Mandala, Feminist
Society6 Picks:
Trending Collections
We're lucky to have such talented curators on our team–people who spend every day finding designs and products that customers love. To help inspire creative mojo, here are some themed collections that we'll be sharing throughout the month of May.
Artist Education
Calendars are at the foundation of every successful brand and business you look up to. And a good marketing calendar is just a series of minor goals to help you achieve your major ones. With a little up front planning, you actually relieve that self-imposed, "day of" decision-making pressure, which frees up time to get deeper into your creative work.
Top selling Society6 illustrator Steven Rhodes has grown his income many, many times over through clever design and strategic decisions about the products he sells. He writes about the four reasons why he sells more than just art prints in his Society6 shop.
Customers want to hear about your art prints and wall art being for sale. Even if someone isn't buying your artwork, the simple act of following and engaging with you and your creative process is their way of showing support. And if you cultivate that relationship through meaningful interaction, you have a good chance of turning that fan into a customer–even better, a repeat customer.
This Just In
Here's where we showcase the latest and greatest products, updates, announcements so you don't miss a beat.
Just Launched: Mini Art Prints
They say good things come in small packages. And the same applies to our mini art prints—framed and unframed. Whether someone is trying to improve their office decor or fill an awkward entryway, our mini art prints are likely a great extension to any artist's wall art offering. (And they're really easy to enable.)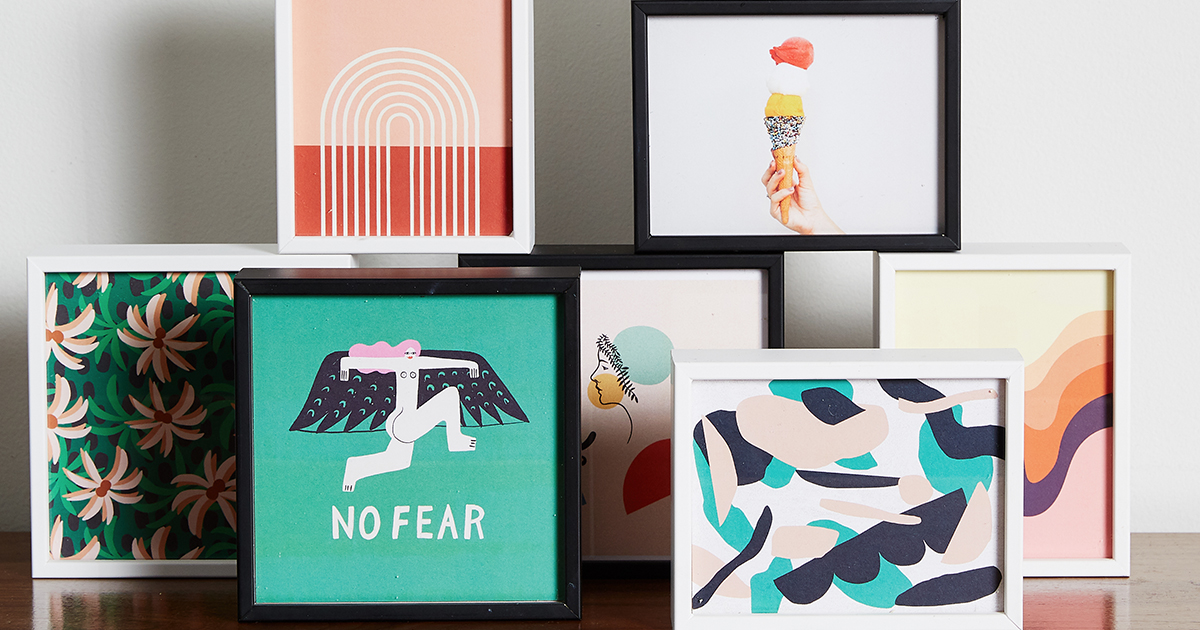 Coming Soon: Outdoor Collection
Later this month, we'll be launching an all-new line of 6 summer-ready products: picnic blankets, outdoor floor cushions, sling chairs, folding stools, welcome mats, and sun shades. With summer around the corner, the products are perfect for the backyard or beach. We can't wait to see what you do with these! Look out for an email later this month with more details.